Wall-mounted ODF Box 12 Cores Outdoor Fiber Optic Terminal Box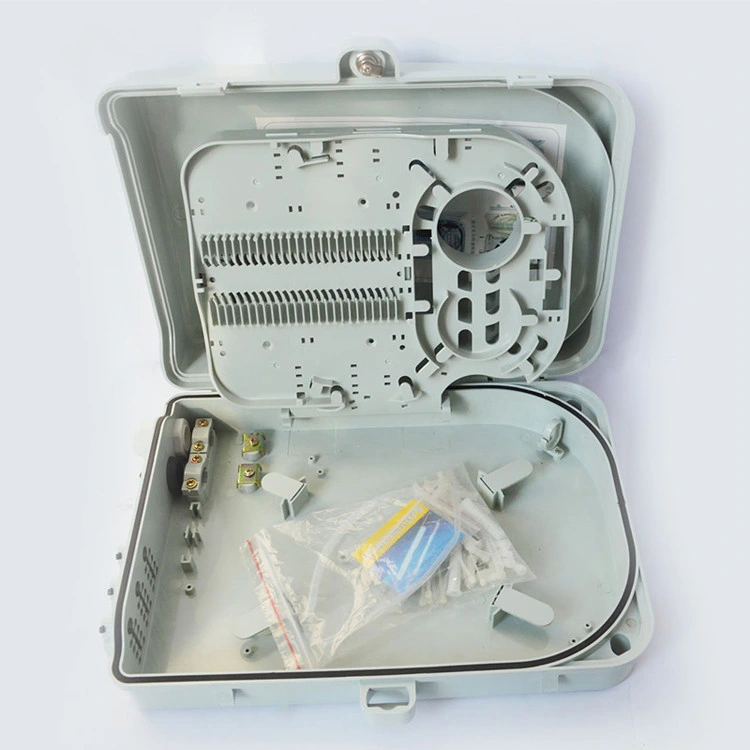 Description
FTTH fiber optical terminal box, outdoor fiber optic termination box is used in wiring connection between optical cable and optical communication equipment, through adapter in distribution box, optical fiber jumper leads optical signal, realize optical wiring function, and can meet the optical splitter placed to achieve spectral function.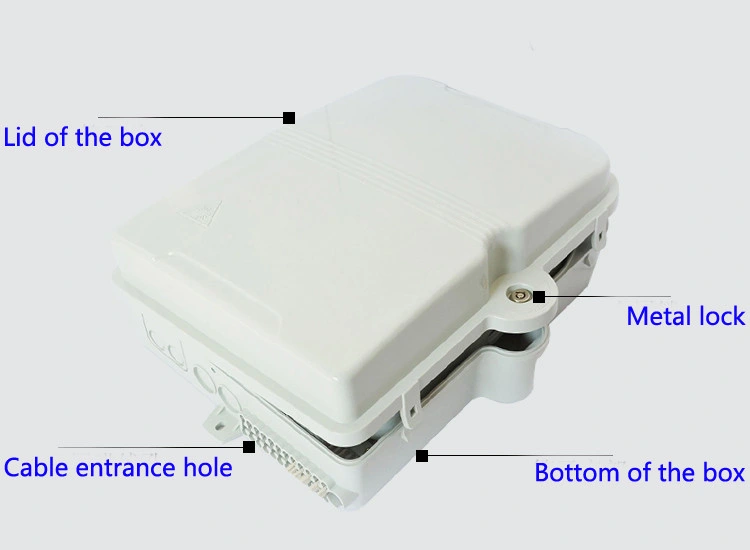 Features
ABS material used ensures the body strong and light.
Waterproof design for outdoor use.
Made of Grade A PC/ABS alloy material, working life more than 20 years.
Drop resistance, ability to work under vertical pressure of 500N.
Easy installations: Ready for wall mount installation kits provided.
Adapter slots used, no screws and tools needed for installing adapters.
Ready for splitters: designed space for adding splitters.
Double-layer design for easier installation and maintenances:
Lower layer for splitters and over length fiber storage.
Upper layer for splicing, cross-connecting and fiber distribution.
Cable fixing units provided for fixing the outdoor optical cable.
Accommodates both cable glands as well as tie-wraps
It is good for storage of fixing cable achieves.
It is applicable for (indoor and outdoor) (pole-mounted, wall-mounted).
The splicing part is convenient for protection and maintenance engineering.
Adapter baseboard and optical installation box baseboard uses a rotary design.

Specification
The high strength plastic, anti-ultraviolet radiation and ultraviolet radiation resistant, resistant to rain;
For indoor and outdoor wall mounted or pole mounted.
Box of body use "lock type" structure: Box of body switching of simple, convenient, with a lock function
Material: ABS plastic
Size: 32*27*9.5cm, 1.35kg
Lateral pressure-resistance: 500N
Shock-resistance: 750N
Type: lock type
Item: indoor and outdoor
Installation: pole-mounted wall-mounted
Protection grade: IP65
Adaptor type: SC/LC
Working temperature: -40 ~ +80ºC
Adaptor type: SC/LC
Product name

24 Core Optical Distribution Box

Application

Wall-mounted indoor




Pole-mounted outdoor

Dimension(length/width/height)

32*27*9.5 cm

Weight

1.35 kgs

Product function

It can internally installed 2pcs 1*8 or 1pcs 1*16 LGX box optical splitter or 24 pcs fiber optic adapter (12 cores is compatible )

Product material

High quality PC alloy
Application
Optical LAN & WAN & CATV
FTTH project & FTTX Deployments
Broadband High-bit rate data transmission
Active device terminations
Testing instruments
Optical fiber communication networks
PON Networks
Optical Signal Distribution