FTTH box 4 8 port way distribution box fiber optic outdoor wall mount FTTH box
1. Description:

The equipment is used as a termination point for the feeder cable to connect with drop cable in FTTx communication network system.
The fiber splicing, splitting, distribution can be done in this box, and meanwhile it provides solid protection and management for
the FTTx network building.

2. Features:

1.Total enclosed structure.
2. Material: PC+ABS,wet-proof,water-proof,dust-proof,anti-aging,protection level up to IP65.
3. Clamping for feeder cable and drop cable, fiber splicing, fixation, storage, distribution...etc all in one.
4. Cable,pigtails,patch cords are running through own path without disturbing each other,cassette type SC adaptor installation,
easy maintenance.
5. Distribution panel can be flipped up, feeder cable can be placed by expression port, easy for maintenance and installation.
6. Cabinet can be installed by the way of wall-mounted or poled-mounted, suitable for both indoor and outdoor uses.

3.Specification:
1.Environmental requirement
Working temperature:-40ºC~+60ºC
Relative humidity:≤85%(+30ºC)
Atmospheric pressure:70KPa~106Kpa
2.Main technical datasheet
Insertion loss:≤0.2dB
UPC return loss:≥50dB
APC return loss:≥60dB
Life of insertion and extraction:>1000 times
3. Thunder-proof technical datasheet
The grounding device is isolated with the cabinet, isolation resistance is less than 2MΩ/500V(DC);IR≥2MΩ/500V
The withstand voltage between grounding device and cabinet is no less than 3000V(DC)/min, no puncture,no flash over;U≥3000V
4. Configuration table:

Table 1 configuration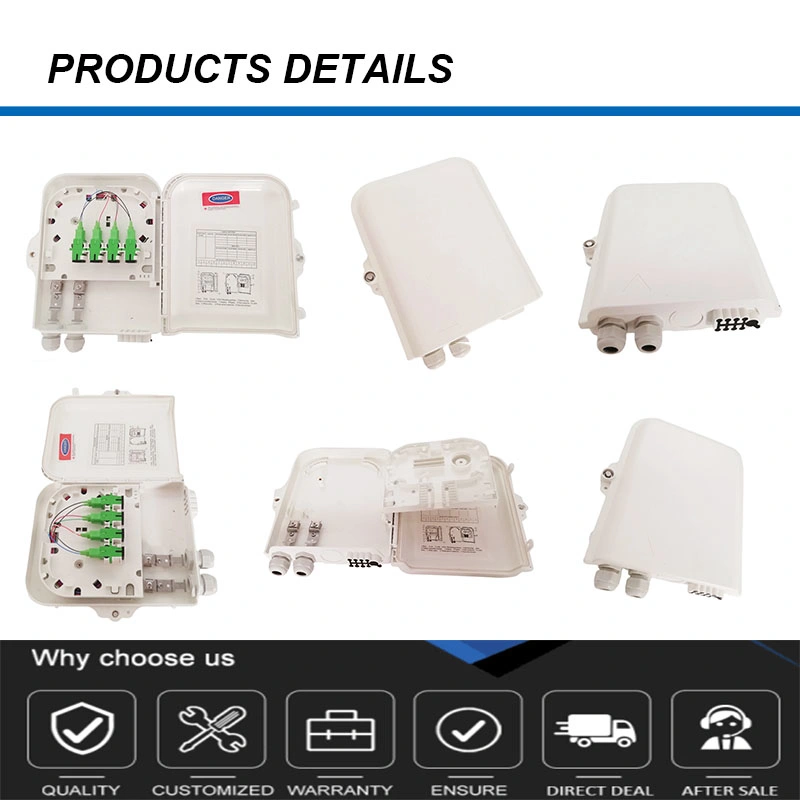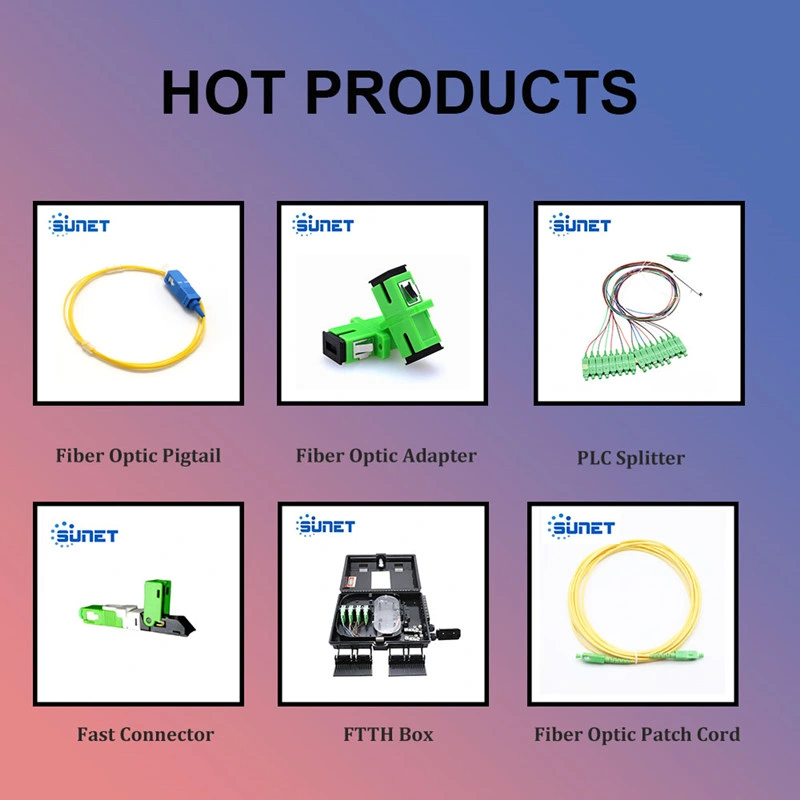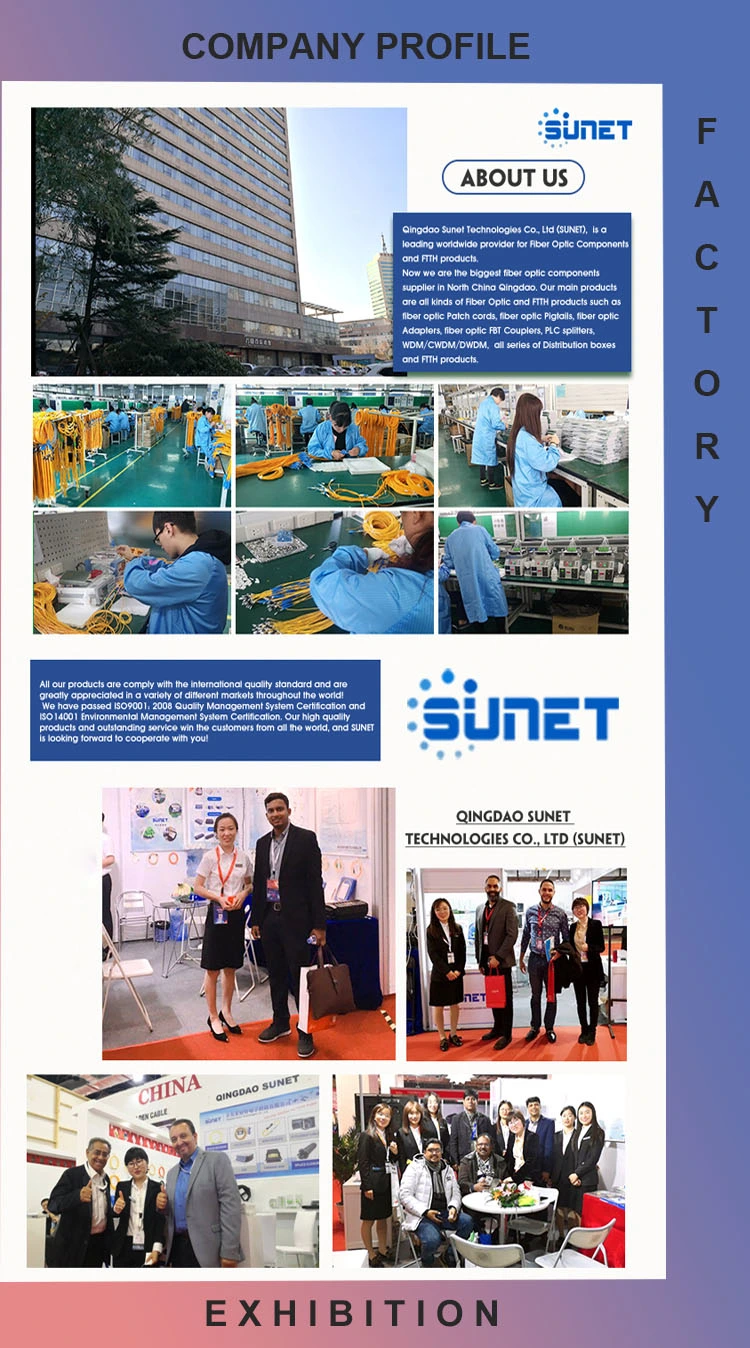 Qingdao Sunet Technologies Co., Ltd (SUNET), estalished in 2006Year(which located in beatiful city QINGDAO, Shandong Province), is a high-tech enterprise and a leading worldwide provider for Fiber Optic Components.
Now it is the biggest fiber optic components supplier in North China. Our main products are all kinds of Fiber Optic components such as fiber optic Patchcords, fiber optic Pigtails, fiber optic Adapters, fiber optic FBT Couplers, PLC splitters, WDM/CWDM/DWDM, all series of Distribution boxes and FTTH products.
All our products are comply with the int,ernational quality standard and are greatly apprecatied in a variety of diffrent markets thoughout the world!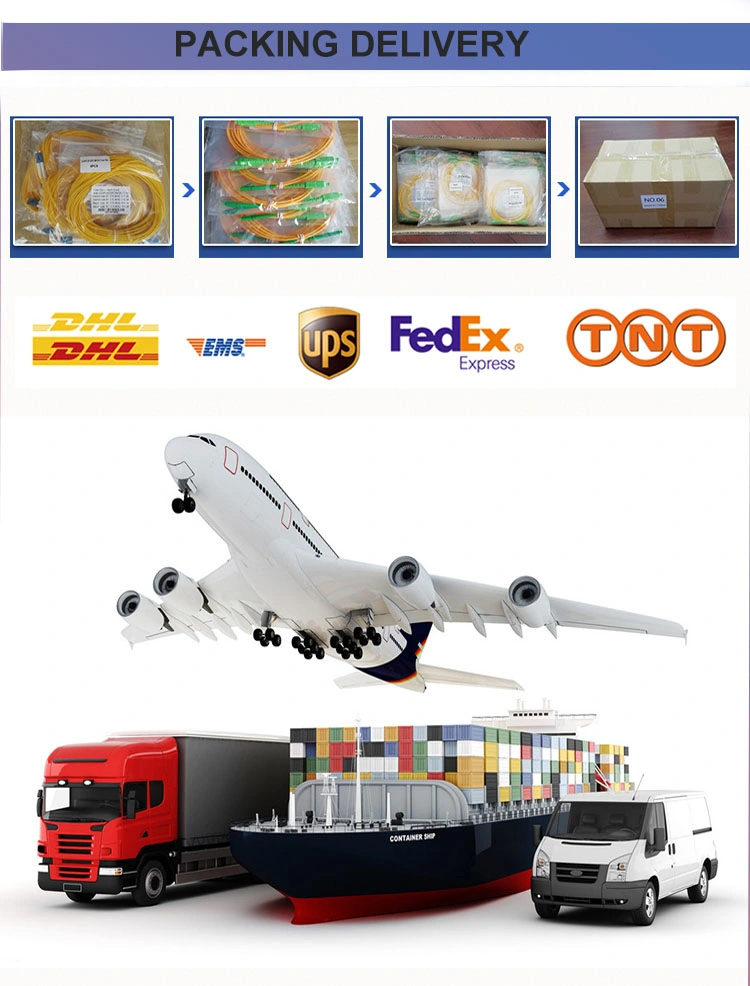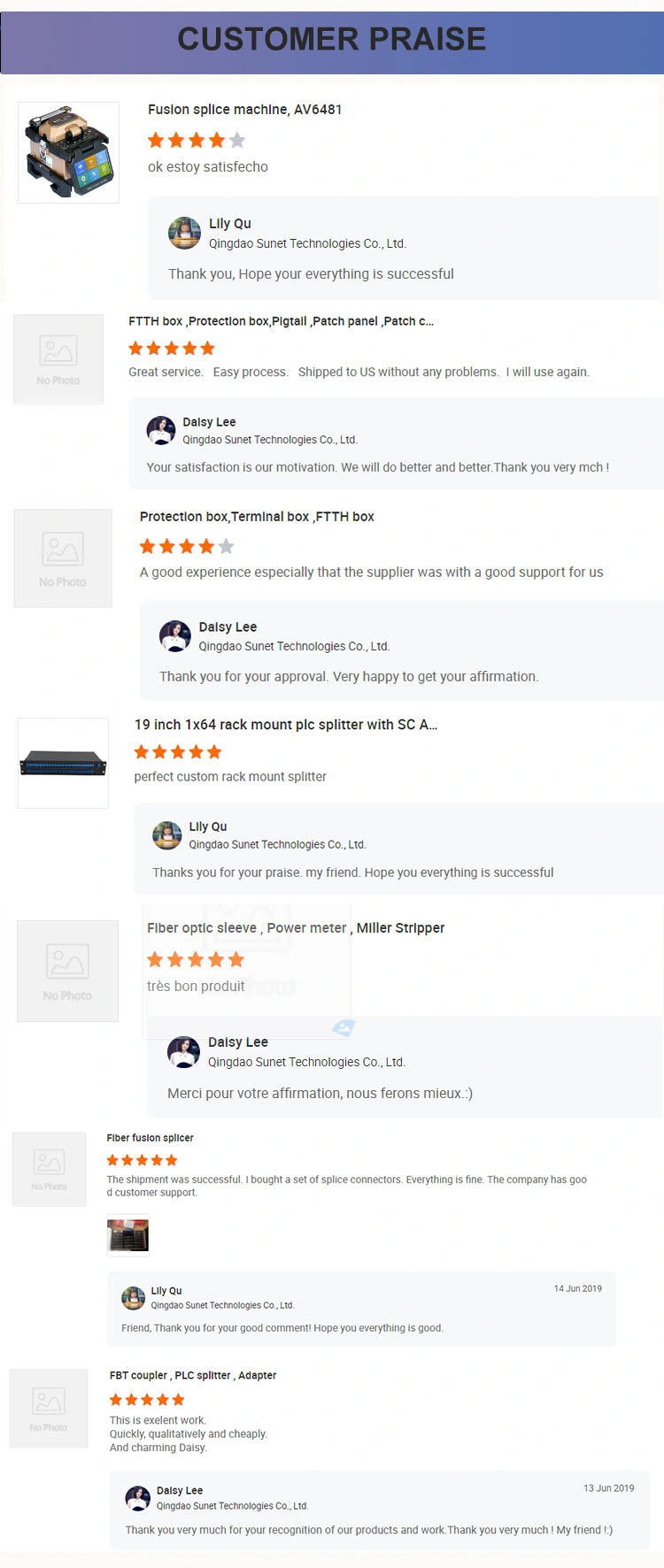 FAQ
Q1.: How can I get the quotation quickly?
A1.: To send your inquiry with detailed spec to our sales email box or call us. Our sales representative will get back to in 24 hours.
Q2.: May I buy samples from you?
A2.: You are welcome to place sample order to test our superior quality and services.
Q3.:How about the price?Can you make it cheaper?
A3.: The price depends on the item your demand(quantity)Beat quotation after receving full description of the item you want.
Q4.: Can you put my brand name (logo) on these products?
A4.: Yes! The professional OEM services will be welcomed to us. Our factory accepts to make the logo free for bulk orders.
Q5.: May I know the status of my order?
A5.: Yes .The order information and photos at different production stage of your order will be sent to you and the information will be updated in time.
Q6.: Can you provide us more other products to us to help us to save more shipping costs?
A6: Yes. There're kinds of Fiber Optic Products we can supply.
Patch cord, Adapter, PLC Splitters, Splice Closure, will be the main products line of Our Factory.
The OEM bulk order will be acceptable as well.